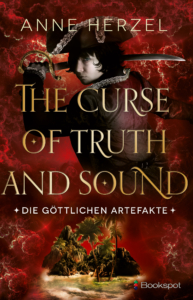 Band 2 der "Göttlichen Artefakte" – "The Curse of Truth and Sound" ist jetzt erhältlich!
Beinahe ein Jahr ist es her, seit Vanelle der Piratenjagd den Rücken gekehrt und ein neues Zuhause auf Rivays Schiff gefunden hat. Doch auch die Oasis bleibt vom Schicksal nicht verschont. Nach dem Verlust Vinricks und vieler Weiterer ist der Geist der Mannschaft gebrochen. Selbst Rivay erkennt, dass der Preis für die Karten zu hoch ist. Doch als ein totgeglaubtes Crewmitglied auf das Schiff zurückkehrt und die Meere im Chaos wilder Stürme erbeben, müssen die Piraten feststellen, dass auch sie dem Ruf ihrer Bestimmung nicht entkommen können.
Während Gaia im Nebel versinkt und die Götterbiester ihr Unwesen treiben, setzen Vanelle und Rivay alles daran, ihre Flüche zu brechen. Doch ist der Erhalt ihrer Mannschaft mehr wert als das Schicksal der Welt?
Seitenzahl: ca. 420 Seiten
0
0
Yvonne Singer
Yvonne Singer
2023-05-30 16:11:05
2023-05-30 16:55:29
Jetzt im Handel – The Curse of Truth and Sound